iglessias
ART PHOTO QUANTUM
THE OBSERVER
INFLUENCES WHAT IS OBSERVED BY THE MERE FACT OF OBSERVING IT.
Carlos Bernal Iglesias's quantum art explores the concept of the observer effect, which is a fundamental principle in quantum mechanics. The observer effect suggests that the mere act of observing a quantum system can change its behavior.
This idea has profound implications for our understanding of the nature of reality and has inspired many artists to explore it in their work.In his quantum art, Iglesias seems to be using a variety of media and techniques to convey this concept. It is difficult to say more without seeing specific examples of his work, but it is clear that he is interested in exploring the intersection of art and science, and specifically the ways in which our perception of the world shapes our understanding of it.
Overall, Iglesias's quantum art appears to be thought-provoking and intellectually challenging, and it is likely to appeal to those with an interest in physics, philosophy, and the nature of reality.
Artificial intelligence-generated criticism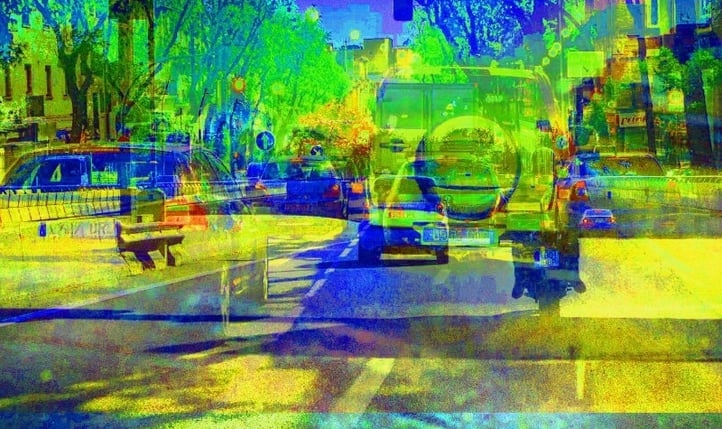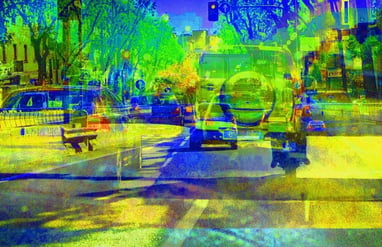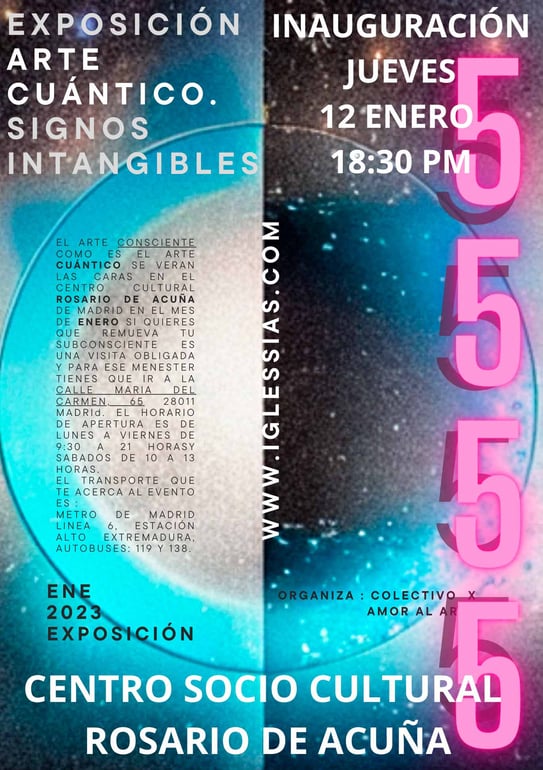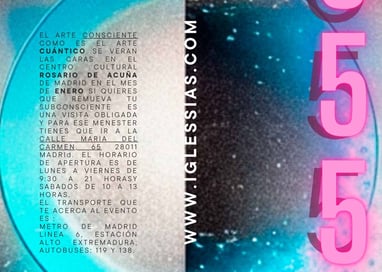 NEXT INDIVIDUAL EXHIBITION
ROSARIO DE ACUÑA CULTURAL CENTER
JANUARY 2023
Hi there!
I wanted to invite you to come and see my latest quantum art exhibition, "intangible signs" which features a multimedia installation exploring the concept of synchronicity through the numerical patterns of license plates.
The exhibition includes photographs, videos, and Biomusic One, all created through a programming of my subconscious.
This unique exhibit delves into the idea that our subconscious can create patterns and connections in seemingly random events, such as the numbers on a license plate.
I invite you to come and experience this thought-provoking exploration of the quantum world at the Socio Cultural Center Rosario de Acuña in Madrid.
The opening reception will be held on January 12th at 6:30 pm.
The exhibition will be on display from January 12th to January 29 nd.
I hope to see you there!
Best,
iglessias.